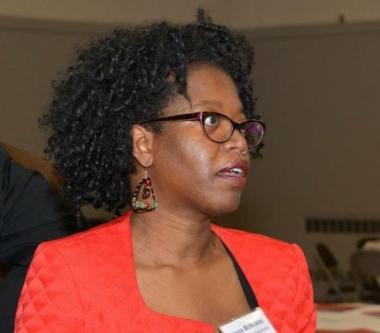 Social Justice and Diversity Educatior; Owner, McNickles & Associates; Activist
They don't like when you speak out. You're vulnerable and people try to bring you down. But there's a community here with you that is very supportive. They may not be visible to the powers that be, but they're doing it.
Abstract:
Dr. Joyce McNickles was born in Florida and moved to Worcester at a young age due to her father's job. She is one of seven children within her family. Joyce grew up with the appreciation of differences in people due to her father's great influences on her. This contributed to her becoming a diversity educator. Today she works and teaches diversity training. She is working to better the community as well as provide education in areas where society needs it the most. Joyce is a social justice and diversity educator. Her professional experience includes over twenty years of facilitating and teaching in private and public organizations and in higher education. She leads McNickles and Associates, a consulting practice which advances inclusion and social justice in organizations by providing individualized coaching, mentoring and staff development trainings. Joyce became so successful through many years of education and hard work which has helped her receive many awards and recognition.