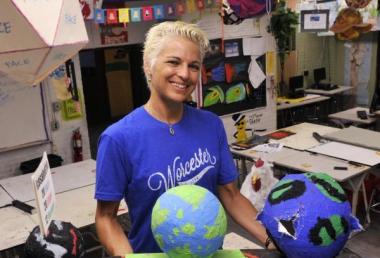 Art Teacher; stART on the Street Volunteer; Owner of the largest LEGO collection
It kind of saved my life in a way. I had a learning disability growing up and I didn't speak until I was in first or second grade and school was very difficult. My parents have always been wonderful and just encouraged me in whatever I did. So I would draw and draw and draw and they'd buy me whatever paper, pens, paint to draw. They took me to the Worcester Art Museum as a kid to take classes there even though they didn't have a lot of money. And full circle is when I got into high school I ended up teaching there. So here I am eight years old taking classes and seeing my artwork up on the wall and then high school I get accepted to teach at the Worcester Art Museum. So I see the benefits of the arts and I grew up in music as well and how it can change someone's perspective from being, "Ugh, I can't do this, I'm a failure," to "Oh, guess what, you can attempt and you can do things." As long as you can find that niche of something to keep you going, that passion, that drive, that place where you can fall back on when things get tough.
Abstract:
Stacy Lord was born in Holden, Massachusetts in 1969, grew up in Princeton and moved to Worcester in 1996. She attended Wachusett High School and Anna Maria College where she discovered her love for the arts. Stacy is a loving partner as well as mother to two boys. Throughout her life, Stacy had many jobs involving the arts and now is a devoted middle school art teacher in Worcester. In this interview Stacy discusses her love for the arts and the positive effects it has on her life, the rewards and struggles of being a teacher, and her dedication in the classroom with her students and at home with her boys. She also expresses the various community services she is involved in such as Girls Inc. and stART on the Street in Worcester, which is an art, music, and performance festival. Stacy shares that she owns the largest LEGO collection in New England and expresses the joy it gives her and her sons. In this interview, Stacy also highlights the importance of perseverance and equality for women and defines success as happiness.