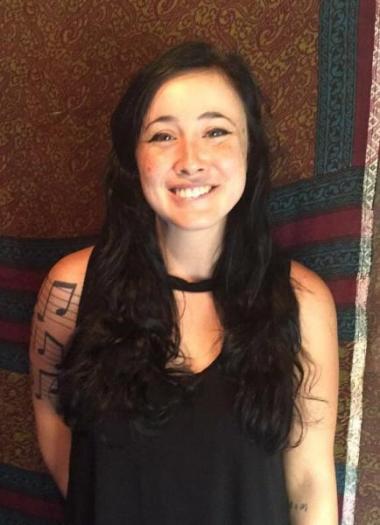 Musician; Music Teacher, Worcester Music Academy; Founder, Main Idea
I try to give myself this advice every day. That is, don't ever let fear be the reason you don't do something, go for something. If that's the reason, do it anyways. And two, try to pace yourself. Try to be gracious with yourself and others.
Abstract:
Joy Rochelle Murrieta was born in Sandwich, Massachusetts in 1986 and attended Crown College where she studied Music Performance and Christian studies. In this interview Joy was 31 years old. Joy identifies as half-Mexican, her mother is white and is from Colorado, and her father is Mexican. Joy's family move around while she was growing, and she discusses some of her experiences in different parts of Massachusetts and Colorado. Joy opens up about the hardships she went through while growing up with her mother and sister having medical problems. Joy is single, and now works as a music teacher at the Worcester Music Academy, as a freelance musician, and runs a nonprofit organization called Main Idea. Main Idea is a camp that parents can bring their children to where they can learn about the arts. In this interview Joy shares her passions for music and children, as well as the previous jobs she held such as a barista and working at Guitar Center, which lead to the jobs she has secured now. Joy also highlights an inside look on the daily life as a woman pedestrian and how it affects her navigation around the streets of Worcester getting to work, home, and other places in and around Worcester. Joy gives us thought provoking answers on her political standing and her personal views on what it is like to be a working woman in Worcester. In this interview Joy touches upon on how we can make Worcester a healthier place, more accessible for the arts, and speaks on some movements and events that have been beneficial for the arts renaissance in Worcester, Massachusetts.