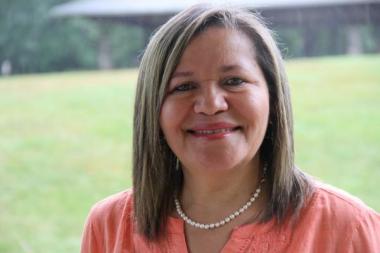 Born in Brazil; custodian UMass Medical School; studied at LVGW
I come here because I think in America, in America I have more opportunity for a better life. My dream is speak English well, and after my citizenship, my goals is changing the job…if I have opportunity for improve myself. One thing I like here. If somebody want a going opportunity for life, America gives this opportunity for everybody. Because in Brazil, if somebody lose the job after forty-year, find out another job is very difficult.
Abstract:
Edna Maria (DaSilva) Froio was born in Brazil in 1963. Edna came to the United States of America from Recife da Pernambuco, Brazil in 2007. Her initial intention was to gain employment in the U.S. and save money to return to Brazil after three years. She needed work elsewhere, as there was limited opportunity for someone over age 40 to find good work in Brazil. She says that youth is favored in Brazil by employers and experienced adults are not. Her journey to leave her native country, her large nuclear family, and to learn the English language in order to secure a job was very challenging during the first year. After losing her position in finance in Brazil, she came to Worcester. Since she had friends in the area, she first settled here. She found a job in a laundry/dry cleaner. A better position as a janitor at UMMS [University of Massachusetts Medical School] in Shrewsbury followed, and she is still there today. She likes her employer very much, and hopes to have further opportunities there, perhaps in finance. She has been learning English language skills with Literacy Volunteers of Greater Worcester for three years, initially taking group courses, then moving on to her one-to-one tutor, which she still has today. She has made significant gains in her English and continues to work and progress with completing one- year of studies at QCC [Quinsigamond Community College]. She has made sacrifices but gained much in return. Her life changed dramatically after several years in the United States of America She lost her career status in Brazil, but she gained her own family. She married for the first time and gained a husband along with three step-children and several grand-children. She expresses much joy and happiness. Edna is a joyous person and has much to offer her family, work, and the community. She will soon be taking her citizenship test in the United States of America.