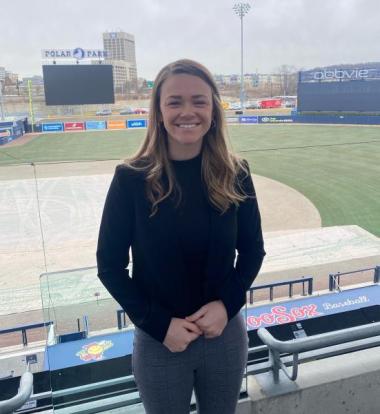 Senior Vice President/Assistant General Manager, Worcester Red Sox
So now I'm the Senior Vice President and Assistant General Manager for the Worcester Red Sox and there's a lot that goes into it. People ask what day to day is like, and I always say every day is different. I directly oversee productions and ballpark entertainment and that includes what you see on the video board, as well as social media and the television broadcast. I oversee merchandise, so the team store and all of our branding, community relations. And then marketing has really been kind of my specialty and that includes advertising, but also outreach and the different promotions that we do. I have a hand in some of our HR [human resources] efforts, including recruiting and hiring and training. So pretty broad, but I think that's one of the really beautiful things about minor league baseball is that you're not put into a box and you get to explore a lot of different areas. We all wear many different hats, and it's been a really great opportunity to grow professionally.
Abstract:
Brooke Cooper was born in Woonsocket, RI in 1992 and attended Woonsocket public schools. She attended Franklin Pierce University in New Hampshire pursuing a Bachelor's of Science degree in Sport and Recreation Management. She then attended Providence College and obtained her MBA. Upon completing her MBA, she interned for the Pawtucket Red Sox, who then hired Brooke when she graduated. She began her career within the Red Sox organization, and is now the Senior Vice President/Assistant General Manager for the Worcester Red Sox [Woo Sox], a Triple-A Affiliate of the Boston Red Sox.