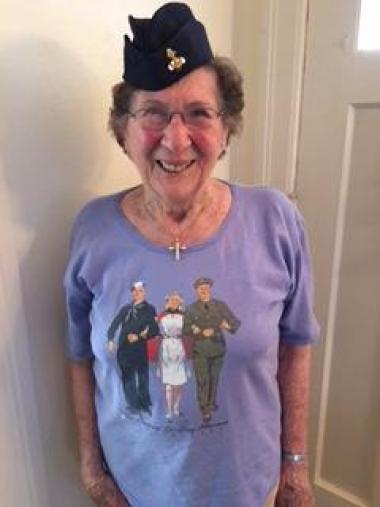 Nurse, Veteran, Navy WAVE, Carried flag for American Legion post 75 years
I went in the WAVES in 1944, and I spent my whole time in the hospital at Norfolk, Virginia, the Naval Hospital there where the ships come in there—the port. It was very—at times it was kind of hard to take, but you see these people coming in to be taken care of from other parts of the country and it's heartbreaking a little bit but you kind of manage to get through it anyway. [The wounded] came from combat from different places. That's where the ships came in; the hospital ships came in there. I mean, we enjoyed some of the time that we were off. But it was a little bit—seeing, doing the job we had to do, it was a little bit difficult seeing all the things that happened to them. They'd come in from different areas and they'd be off the battlefield, and they'd come in with casts that were messy looking; they had to be changed, and all that, but I was able to take that OK.
Abstract:
Phyllis Gallant was 95 when she was interviewed. After growing up in Holden and Worcester she went to nursing school at Holden hospital She and her sisters danced professionally in the area during her youth. She shares her memories of being a Navy WAVE during World War II and describes her work at the Norfolk Naval Hospital, the living arrangements, and recreation during her two-year involvement. When she returned home she married and had four children. She is an active participant in the American Legion, carrying the flag for her post for 75 years, and still bowls in a league.