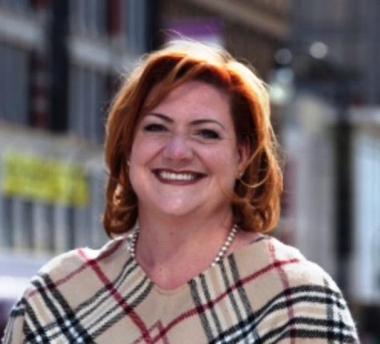 VP, Harvard Pilgrim Health Care Central & Western Mass
Know that you can do whatever you want to do, and don't let anyone else define that for you. And when you're scared, it's actually good…So, you do it, and it's the only way to make it go away, because you have the experience, and you're not afraid of that thing anymore.
Abstract:
Having spent the totality of her life in Worcester, it is no doubt that this city holds a special place in Kate McEvoy-Zdonczyk's heart. She was born in 1973 and lived in Main South, attending various public schools in the city of Worcester, until she went on to college, first at Assumption College, then Worcester State University, to receive a bachelor's degree. Kate got her start in Worcester at Shaw's Supermarket on Gold Star Boulevard. This fueled her love for the improvement of the city, leading to working for Worcester Magazine and now in her current position as Vice President of the Central and Western Massachusetts division of Harvard Pilgrim Health Care. Kate has worked tremendously hard to make Worcester the best city it can be, and as Kate says herself, "Your community takes better care of itself when it's less anonymous." She plans to stay in Worcester for the remainder of her professional career and personal life. Kate embodies what it means to be a true member of a community with her dedication and passion to the prosperity of Worcester.