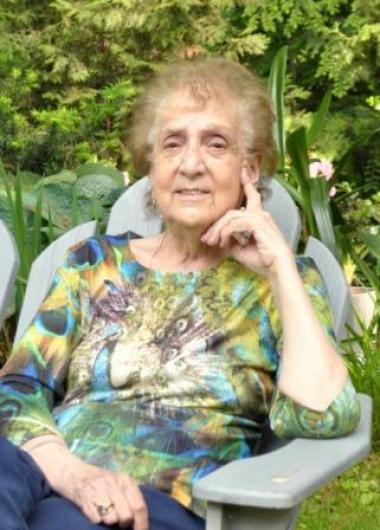 Mother, grandmother, former secretary, bookbinder
I think the costs have been—what's that saying that they say? Priceless [laughs]. I have—I don't know if this is what you're getting at, but I don't have any regrets. I think my path that I've chosen has been a wonderful path and I attribute that to being with a wonderful man...that I married, and having wonderful children so I think the benefits have been really are very stable, rewarding and kind of a fun adventure. Granted we had some, you know, some—it wasn't all wonderful. We had some trials and tribulations, but overall I think it's been a wonderful path.
Abstract:
Grace McLaughlin was born in 1924 in Worcester, Massachusetts. She was the last of four girls born to Benjamin and Isabelle Vinti. Grace's father, Benjamin came to the United States from Italy and later sent for his wife. After settling in Brooklyn, New York, Benjamin and Isabelle made the move to Worcester, where their fourth daughter Grace was born. Grace recalls living in a close-knit community where most people were of Italian descent. Being of strict Italian descent, it was only natural that she and her three sisters were expected to date and marry Italian men. In this interview Grace discusses the initial struggles of marrying an Irish man, Frank McLaughlin. Once the two were wed, they settled in Grafton, Massachusetts. Grace discusses the issues of marriage, as her husband Frank did not want Grace to work anymore. However, Grace was independent, she wanted to work and continued to do so until they started a family. Grace gave birth to four children, three girls and one boy, all of who were born in Worcester. Grace still resides in the Grafton home in which she and her husband raised their four children, she currently shares this home with one of her daughters and granddaughters. Grace discusses the challenges and progression she has seen within her current neighborhood and city over time.