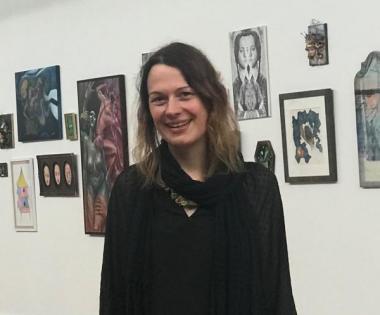 Art Conservator, Worcester Art Museum; Owner, Sprinkler Factory
Worcester is a welcoming city, it's the city of inventors. Just went to the Harvey Ball last night, to the Worcester Historical Museum. And I think that's a good place where all the inventions are well-kept, and you can see what Worcester was and is still! Worcester, I think, follows that tradition because now it's more, less the industry. But I love, I love, a lot of new entrepreneurs are starting in Worcester.
Abstract:
Birgit Straehle was born in Rothenburg Ob Der Tauber, Germany, in 1973, and works as an Art Conservator for the Worcester Art Museum, located in Massachusetts. Birgit graduated high school, and eventually went on to major in art history at university in Germany. In 2003, during her second semester at university, she took a break from her studies to start her internship in Worcester for half a year to gain hands- on experience in her field in- between her studies. Birgit then returned to Worcester in 2006 upon being offered a fellowship by her current employer at the Worcester Art Museum, and to pursue her dream career as an art conservator. In this interview, Birgit discusses the challenges she faced when she first arrived in Worcester in 2003. She was forced to dust off any English that she learned in Germany, as she explored the limited resources that were available to her in the city for assistance. Birgit does not conform to certain political or feminist groups, but she enjoys connecting with the young artists throughout Worcester, as well as learning with her colleagues at the museum. She currently owns a nonprofit art gallery, The Sprinkler Factory, with her husband, where they display pieces from artists all over Worcester. Her heart lies at the gallery with Luis, at the Worcester Art Museum, and back home with her roots in Germany.